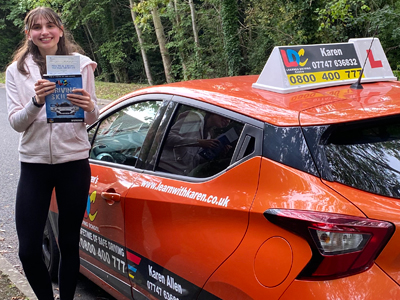 Gabriella
Passed 1st time
I have been so honoured to have Karen as my instructor. She is patient, friendly and extremely supportive, I cannot recommend her enough! Her teaching style is adaptive to what you want to cover and her positivity and encouragement made every lesson fun and enjoyable. I always achieved my goal I set out to reach and we often covered so much more as well. Karen has gone above and beyond to help me on my journey to learn to drive. I couldn't have done it without her.
Ffion
Passed 1st time
Thank you so much for your gentle and clear teaching and instruction for Ffion. I know we made a bold move by booking her test before her op and out of area. Then against all odds we stuck with the date on a day that the examiners were striking - but it paid off; all went ahead and that's down to you, she passed! Ffion has described your instruction as very versatile and such a calm approach that immediately put her at ease. You have so been so flexible around her knee injury and op and I really think we could not have found a better match for Ffion when we were choosing an instructor. Thank you
Phil Nash
Newly qualified ADI!
I couldn't recommend Karen highly enough! She supported me as my trainer to become an ADI through part 1, 2 and 3. She was always friendly, knowledgable, professional and has helped me throughout my journey. Thank you!
Hayley Fenn
Newly qualified ADI
Karen is professional, dedicated, knowledgeable and kind. I looked forward to each session we had as I learned that Karen would make it easy to understand. She praises achievements and clearly explains alternative and better methods when needed. Yes, I worked tirelessly, however, Karen herself was persistent in taking me beyond satisfactory and striving for excellence. I'm so pleased I'm now a qualified ADI, but this is tinged with some sadness because we will no longer have our learning sessions together. Thank you, as I could never have achieved my high grade without you. You are superb at what you do.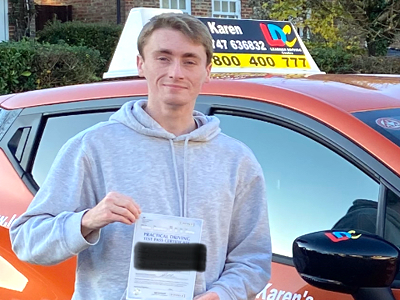 Jack
Learning with Karen was an absolute pleasure. Not without its challenges but that's what learning a new skill is! Karen shows both patience and an in depth knowledge of driving which makes you feel safe and secure as a student. I will miss our lessons, but I'm happy I passed. A brilliant teacher and mentor.
Alex
Clean sheet pass
Hi Karen, I'm just letting you know I passed my test with no faults!! Thank you so much for your time last week and for the videos you sent me, I really think you made a massive difference in my confidence and my ability. Hope you're having a brilliant day! Alex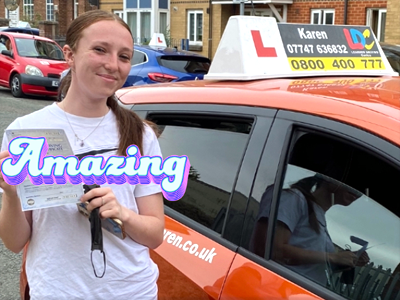 Olivia
Passed 1st time
I would highly recommend my lovely driving instructor Karen, not only has she helped me to pass first time but she is so patient and friendly, couldn't recommend her enough xx
Keeley
I honestly could not recommend Karen more to anyone who is wanting to learn to drive. Karen was so helpful as I was let down by my previous instructor; she managed to fit me into her busy schedule to ensure that she could get me ready for my test that was in such a short period of time. Karen is so patient with you and allows you to take control of what you want to do in your lessons, by giving you different options of what you can do. A big thank you to Karen for all your support and help over the last few months!
Jasmine
Karen is a truly amazing driving teacher! She was so patient and understanding with me and made sure that I understood something before moving on. She also really helped me to get familiar with tricky roundabouts and junctions so when I got them in my test, I felt confident with them. She was also more than happy to answer all my (many) questions! I couldn't recommend her more! Thank you!!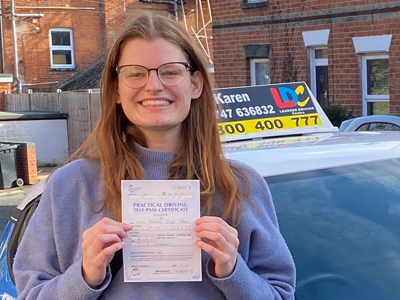 Abby
Passed 1st time
Karen has been a fantastic teacher, in addition to being extremely patient and friendly! I have thoroughly enjoyed all of my lessons and have gained confidence in driving - the cherry on top, passing first time!!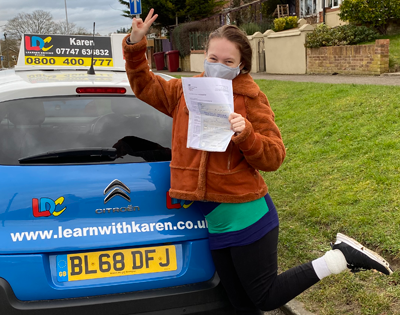 Haniya
Thank you xx thank you for teaching me, amazing teacher.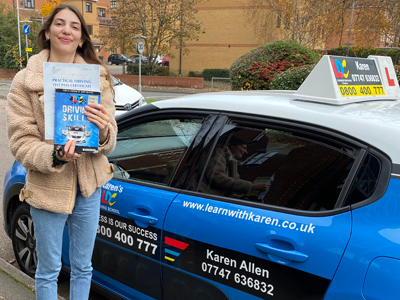 Charlotte
I started lessons with Karen after switching over from another instructor and was lacking in confidence with my driving and had a long way to go with developing my driving skills. Over the course of 2 years and during a pandemic, Karen was incredibly supportive, encouraging, and an innovative instructor. Her whole approach was tailored to my skill set and ability, and general approach and personality, so at all times I always felt motivated to improve and was fully equipped at all times with detailed knowledge that she would share along the way. Importantly, Karen would make the lessons enjoyable whilst sharing many tips, and key approaches - again in a way that matched my learning style.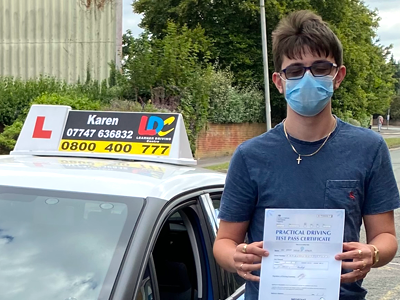 Adam
Passed 1st time
Thank you so so much Karen, I cannot thank you enough, I really can't. No chance could I have done this without your kindness and soft gentle touch you do with everything, for example if I make a mistake we pull up and talk about it and see how we can correct it, that really really helps Karen and I could not believe how you're personal kind touch has helped me so much, you have managed to pick me up from a really really bad place with my driving and you polished me up and got me here !!!!! Really cannot thank you enough Karen. Kind regards Adam.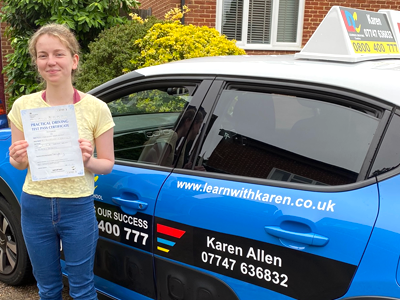 Maddie
Karen's style of teaching was very calm and thorough and she really helped me to improve my technique. Her focus on being a safe driver was really helpful and allowed my confidence to grow. I was very anxious starting lessons again, particularly through all the lockdowns but Karen put me at ease and helped me to finally pass my test!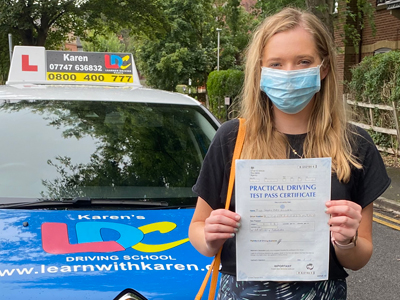 Sarah
Passed 1st time!
After lockdown I managed to rebook my test date but unfortunately had no instructor, Karen very kindly managed to fit me in! I'd had driving lessons in the past but driving made me very anxious. Karen helped me to revisit the basics and explain new techniques which really helped build up my confidence. She's patient and thorough and put me at ease really quickly. The LDC approach is really helpful as you can read the key points after each lesson and go back over the videos online in the lead up to the test. So happy to have a first time pass which I didn't think would be possible and can't thank Karen enough for helping me enjoy driving!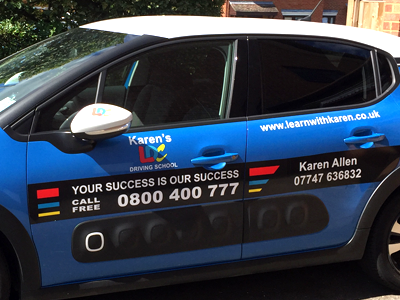 Christi
Thank you!
Post-lockdown 3 I made a pledge to do what I could, between April and August, to help ease the backlog of driving tests. This has meant taking new-to-me students who have a test date but no instructor, for whatever reason. Christi has completed a test booster course with me and, this week, will have some lessons back home in Kent with another LDC instructor ahead of her test in a few days time. This is what she had to say: I am so grateful for all of Karen's help. I improved so much and in a very short amount of time, and it's all thanks to her. She really boosted my confidence and has been so kind and patient with me throughout the process. I would highly recommend learning with Karen.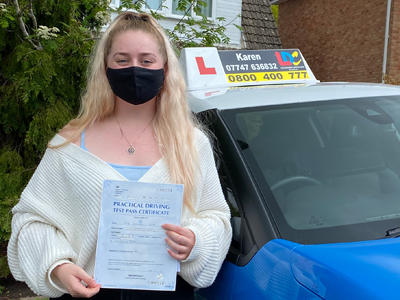 Ellie Skipp
Karen is an amazing instructor, she helped me gain the confidence I needed to pass my test with only one driving fault. She guided me patiently through any stresses I had, and calmed me when I felt nervous near test day. Ultimately I had a lovely driving experience with Karen, and thoroughly enjoyed learning with her - I can't recommend highly enough. Thank you so much Karen!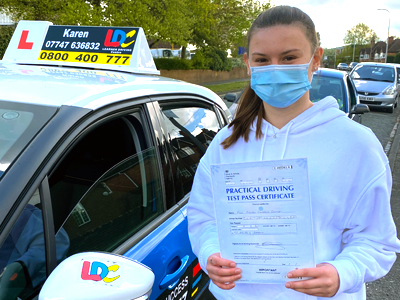 Megan Borton
Can't stop smiling!
I've just passed my driving test with help from Karen. She is patient and encouraging and has helped me build my confidence and pushed me to believe in myself more. I enjoyed my driving lessons with Karen and would highly recommend her to others. Thank you for being the best instructor ever!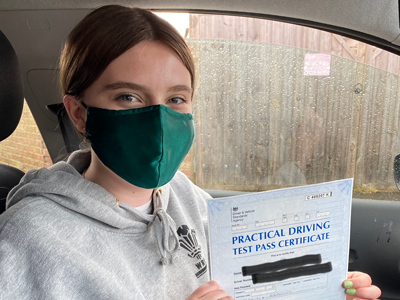 Corinna Bartle
Passed 1st time
Thank you! I couldn't have done it without all your help!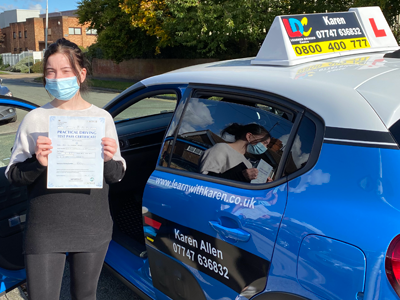 Tia Davies
So happy to pass
I'm so happy I chose to go with Karen. After having previous instructors I still didn't feel confident with my driving and still had a lot to work on. Karen took her time and care when we was doing our lessons and we discussed each topic thoroughly to make sure I had a greater understanding. She's very patient and calm and it made me feel more relaxed when I was driving, I couldn't recommend her enough.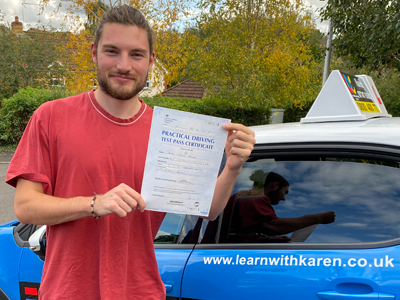 James Bridge
Overjoyed to pass!
James: Thanks so much for helping me pass! Your teaching style was absolutely perfect for me and for the job in hand! Being able to drive will open many more doors 😀 Thanks! James' Mum: I just want to thank you so much for your excellent teaching and professionalism. James is absolutely thrilled and it means a lot to have a brilliant result after some of his experiences with other driving instructors in the past. Thank you so much.
Isaac May
Karen is a friendly and patient instructor who is happy to answer any questions you may have. She gives great advice and helps you to feel prepared for the test. Also, if you've had lessons previously, she will adapt well to where you're already at with your ability. Karen will help you to fine tune every skill you need whilst you're on the road.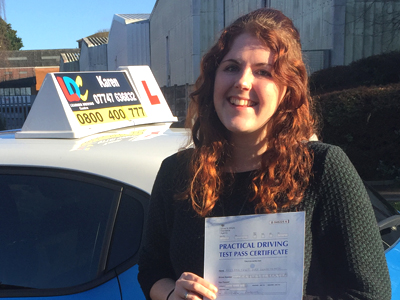 Amethyst Cunningham
Passed 1st time
I'm so glad I chose Karen as my driving instructor! Her patient nature and thorough explanations really helped me build my confidence on the road. I also found the LDC approach so helpful in making sure I fully understood each topic; being able to access the online content and videos in between lessons was great! I would very highly recommend Karen to anyone!
Liv Bray
New Year Pass
Karen is a brilliant driving instructor because she is very clear and calm but at the same time is very thorough which is great because it engrained driving techniques, manoeuvres and safety into my head. She eased me with conversation but also challenged me with questions about driving which really helped me to improve! The LDC driving guide also helped me write about what I did well/ not so well and made me focus on what I needed to improve next time and we would talk about this at the start of the lesson. Overall, Karen is an amazing instructor and would definitely recommend!!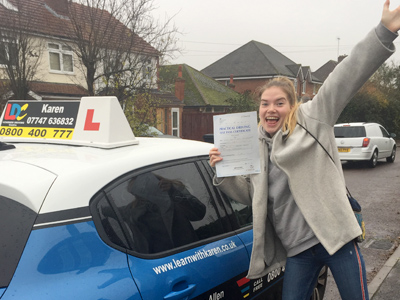 Verity Sainsbury
Passed 1st time
Karen is kind & caring, she really gets to know you and not just how you drive. She is lovely and the best teacher, I felt so comfortable with her and I'm so happy she helped me pass!!! 🤗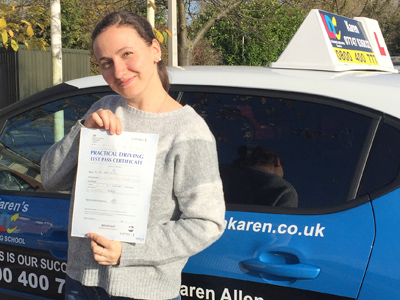 Ana Buliga
Thank you!
Karen is an amazing driving instructor. I cannot recommend her highly enough. All this time she was so kind to me, patient and thoughtful. She is brilliant! I am so grateful to her for helping me to pass and giving me the confidence I needed to succeed. I am so glad I found her. Thank you so much; fully recommended to anyone.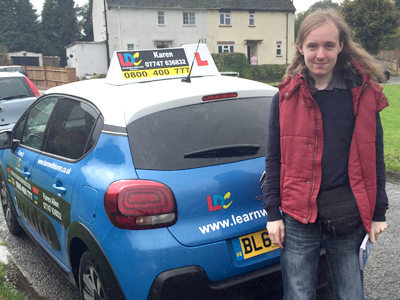 Jason
Passed 1st time
Absolutely a lovely down to earth instructor to learn with. A very patient and reassuring person, exactly what you need to remember that we are all only human, but at the same time striving to be a very safe driver. Thanks Karen!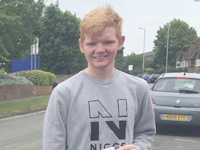 Jack McGuinness
Enjoyable Lessons
I really enjoyed learning with Karen. She was very patient when teaching and very thorough when answering questions about specific manoeuvres and procedures. It was very helpful that Karen did not only answer questions but tested my understanding and thought processes whilst driving, to ensure nothing was missing in my ability to drive safely.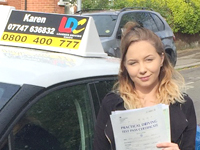 Lottie Horne
Thank you!
Thank you so much Karen! Would definitely recommend, very calming and patient and made me learn to love driving!
Carol
Confident new driver
Thank you Karen for boosting up my confidence. You were very patient and explained everything clearly, I can't thank you enough ❤️ (LDC Driving School Reading) Karen is the Instructor you need if you want to be a confident driver.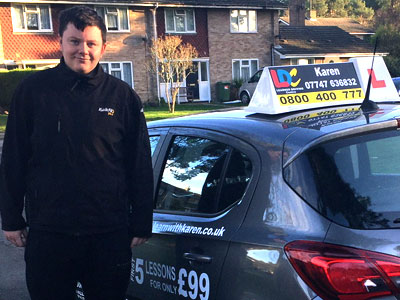 Tyler Gollop
Passed 1st time
The LDC approach helped me to build my confidence and the workbook, video and learning method was really handy to go over key points. I was very lucky to be able to combine my lessons with going out in my own car. I would highly recommend Karen; I was put at ease straight away, she's very knowledgeable and explained everything to me very clearly. I passed first time and would like to say a massive thank you to Karen. She is amazing.
Donna
Dream come true
I have just passed my test today, Karen is amazing and so calm and patient. Driving has always been a dream of mine and Karen has helped make a dream come true. I would highly recommend her and thank you so much xxx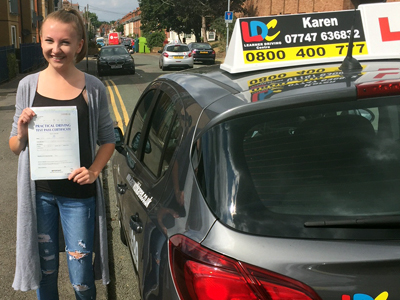 Zoe Pluck
Passed 1st time
I was put off from driving after a bad experience with an old instructor. Karen was amazing and put me at ease straight away. She was calm, knowledgeable and always explained things clearly. The LDC approach really helped to build my confidence as a driver because you are encouraged to think and make your own decisions while driving. The workbook was also extremely handy as it allowed me to go over key points before and after lessons. I passed first time with no driving faults and I can't thank Karen and LDC enough.