Isaac May
Karen is a friendly and patient instructor who is happy to answer any questions you may have. She gives great advice and helps you to feel prepared for the test. Also, if you've had lessons previously, she will adapt well to where you're already at with your ability. Karen will help you to fine tune every skill you need whilst you're on the road.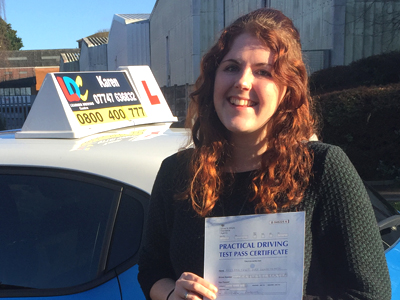 Amethyst Cunningham
Passed 1st time
I'm so glad I chose Karen as my driving instructor! Her patient nature and thorough explanations really helped me build my confidence on the road. I also found the LDC approach so helpful in making sure I fully understood each topic; being able to access the online content and videos in between lessons was great! I would very highly recommend Karen to anyone!
Liv Bray
New Year Pass
Karen is a brilliant driving instructor because she is very clear and calm but at the same time is very thorough which is great because it engrained driving techniques, manoeuvres and safety into my head. She eased me with conversation but also challenged me with questions about driving which really helped me to improve! The LDC driving guide also helped me write about what I did well/ not so well and made me focus on what I needed to improve next time and we would talk about this at the start of the lesson. Overall, Karen is an amazing instructor and would definitely recommend!!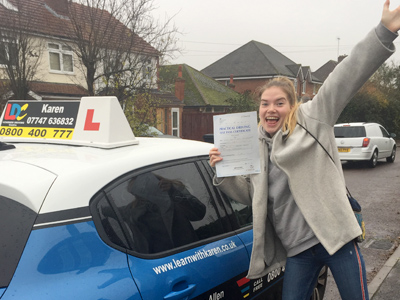 Verity Sainsbury
Passed 1st time
Karen is kind & caring, she really gets to know you and not just how you drive. She is lovely and the best teacher, I felt so comfortable with her and I'm so happy she helped me pass!!! 🤗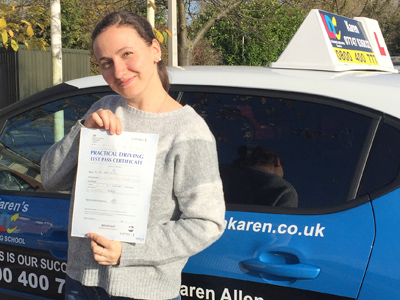 Ana Buliga
Thank you!
Karen is an amazing driving instructor. I cannot recommend her highly enough. All this time she was so kind to me, patient and thoughtful. She is brilliant! I am so grateful to her for helping me to pass and giving me the confidence I needed to succeed. I am so glad I found her. Thank you so much; fully recommended to anyone.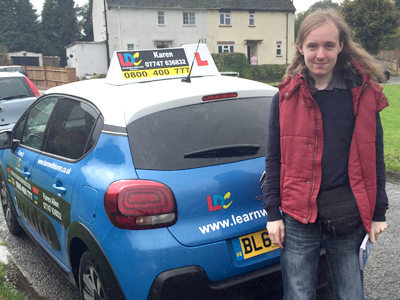 Jason
Passed 1st time
Absolutely a lovely down to earth instructor to learn with. A very patient and reassuring person, exactly what you need to remember that we are all only human, but at the same time striving to be a very safe driver. Thanks Karen!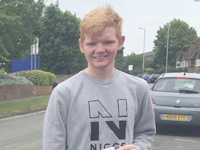 Jack McGuinness
Enjoyable Lessons
I really enjoyed learning with Karen. She was very patient when teaching and very thorough when answering questions about specific manoeuvres and procedures. It was very helpful that Karen did not only answer questions but tested my understanding and thought processes whilst driving, to ensure nothing was missing in my ability to drive safely.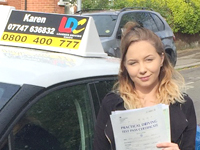 Lottie Horne
Thank you!
Thank you so much Karen! Would definitely recommend, very calming and patient and made me learn to love driving!
Carol
Confident new driver
Thank you Karen for boosting up my confidence. You were very patient and explained everything clearly, I can't thank you enough ❤️ (LDC Driving School Reading) Karen is the Instructor you need if you want to be a confident driver.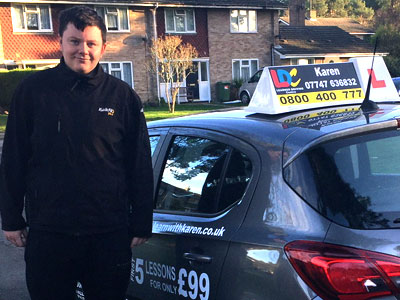 Tyler Gollop
Passed 1st time
The LDC approach helped me to build my confidence and the workbook, video and learning method was really handy to go over key points. I was very lucky to be able to combine my lessons with going out in my own car. I would highly recommend Karen; I was put at ease straight away, she's very knowledgeable and explained everything to me very clearly. I passed first time and would like to say a massive thank you to Karen. She is amazing.
Donna
Dream come true
I have just passed my test today, Karen is amazing and so calm and patient. Driving has always been a dream of mine and Karen has helped make a dream come true. I would highly recommend her and thank you so much xxx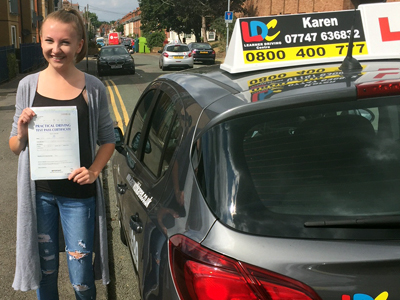 Zoe Pluck
Passed 1st time
I was put off from driving after a bad experience with an old instructor. Karen was amazing and put me at ease straight away. She was calm, knowledgeable and always explained things clearly. The LDC approach really helped to build my confidence as a driver because you are encouraged to think and make your own decisions while driving. The workbook was also extremely handy as it allowed me to go over key points before and after lessons. I passed first time with no driving faults and I can't thank Karen and LDC enough.